Technology doesn't always have to be expensive and complex to help people. The Hamster Ball-Shaped solarball is a water purifier invented and designed by a Monash University Graduate Student Jonathan Liow. He created the device to help people in poor countries that have no access to drinkable water sources.
The solarball is actually a device that uses sunlight to evaporate dirty water, and then condense
it on the recipient's walls, leaving the contaminants behind.
900 million people in the world are in need of clean water, and 2 million children die from causes mainly because of drinking contaminated water.
The design is user-friendly and durable, with a weather-resistant construction, making it well suited to people in hot, wet, tropical climates with limited access to resources. But most importantly, the technology was created to be an affordable option for the 900 million people who don't have access to clean water.
Products that clean contaminated water already exist, but the solarball is a device that filters water using sunlight which creates evaporation and condensation. It can bring access to purified water in many places that need it, and it's a very safe and easy device for kids to use.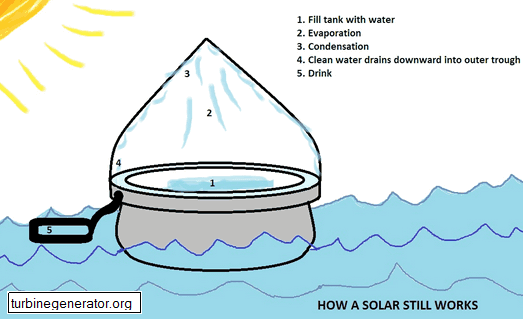 These models show how the Solarball uses the sunlight to filter water, and how the contaminated water becomes evaporated.The forst diagram shows how the sphere shape of the solarball lets in sunlight from all 360 degrees. It let's in sunlight but straps the heat. The seawater condensates and then floats to the top of the dome. This shows beads of water coming out from the top, and driping down the the gutter. The second diagram shows the basic steps on how to use the solarball. You first fill in the tank with the contaminated water, then there is evaporation, and condensation. After the clean water drains out and makes it purified enough for drinking. It also shows where in the solarball these steps happen.
https://drive.google.com/open?id=0BwDLt6twj0P8ZGpjYnN3MmRzNzZFemtDTEtsODVjV1NQT0hV&authuser=0